Dog Spa Installation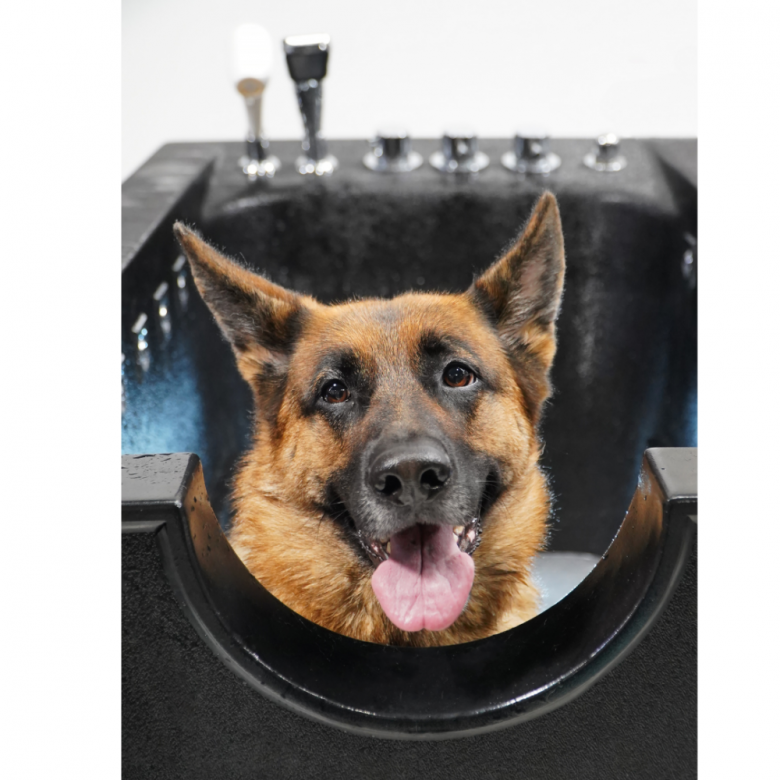 Whether you are a groomer, animal owner or pet hotel, having a walk-in tub installed is beneficial for the humans washing the animals and the animal itself. It is comfortable for humans allowing less bending over which is especially helpful for staff at an animal spa or in-house groomers, while allowing many benefits for the animals themselves. Call Dream Baths of Alabama, LLC with 34 years of experience installing custom walk in tubs and Dog Spas.
---
Call for a FREE Quote
---
Dream Baths of Alabama, LLC Dog Spa Installation Benefits for Businesses
If you are the owner of an Animal Spa, resort, or updated Grooming salon your business and staff will appreciate the custom spa created for your animal clientele as it has several safety features protecting your staff and clientele. The quick ease of access and cleaning allows several animals to utilize during the day increasing your business while the unique technology of the tub creates peace of mind for your clients.
Dream Baths of Alabama, LLC Dog Spa Installation Benefits for Homeowners
These days many pet owners can't afford to have their pets bathed regularly. Oftentimes animals are sensitive to their owners only and not comfortable with strangers getting near them. This can also pose a safety risk to pet owners who have adopted animals or animals that have been traumatized, as taking them to a grooming salon can pose a risk to the staff. By installing an in-home Walk-in tub for your favorite member of the family you can make sure that you taking care of them, is also taking care of you.
Dream Baths of Alabama, LLC Dog Spa Installation Features
Walk-in tub protects your employees' backs and protects the animals from accidentally being dropped or hurt in a struggle
12 Spray Jets with 6 on each side to assist in rinsing your animal one-handed, or just giving them the needed physical contact while bathing.
Microbubble Shower and retractable Stainless Steel hose with Ozone Sterilization which aids in cleaning and hydrating your pet's skin while reducing chronic skin condition outbreaks
Hand-held Shower with Retractable Stainless Steel Hose
LED light for added safety during use
2 Hooks for attaching chains or harnesses to keep animal contained during bathing
Textured Floor
Temperature Control Valve
Outlet Converter
2" Drain Opener in corner
Spa Dimensions: 51 Inches Long, 30 Inches Wide, 32 Inches High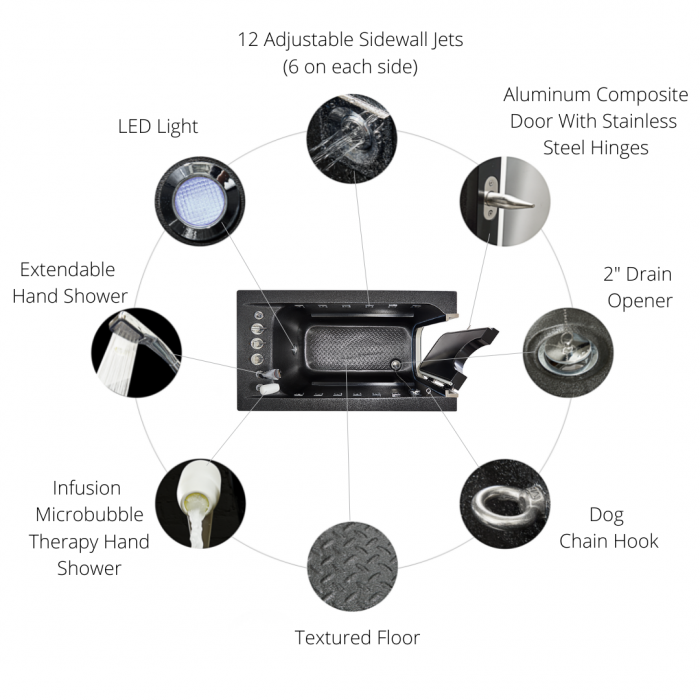 What can the Ella pet spa solve?
Dog & Pet Smell: The bubbles in our pet spa whirl around your pet to remove trapped dirt, yeast, bacteria, and even allergens to reduce itching and odor! It can also dramatically improve therapeutic results without soaps, chemicals or abrasives.
Dog or Pet Allergies: In order to help clean and hydrate your pets skin, a soothing cloud of billions of tiny bubbles that help restore, moisturize, and soften the skin burst around your pet.
Dog and Pet Skin Itching or Rash: The micro-bubbles from our pet spa goes to a deeper level than ever before possible. This allows the deepest possible cleaning that chronic skin conditions need before they can heal.
The pet spa can also help your pet if it's suffering from:
Itchy skin
Hot Spots
Dandruff
Shedding and Hair loss
Anxiety and Mood
---
Call for Fast FREE Quote
Dial Area Code first please.
---