Walk In Tub Prices in Millbrook, Alabama
Need Prices For a Walk-In Tub in Millbrook Alabama?
So how much does a Millbrook Walk-In-Tub Cost? This is a quick and easy question to answer once a trained Independent Home Walk-In Tub specialist is called to assess and measure your bathroom space. In-home estimates are free.

Dream Baths of Alabama, LLC have the lowest and best priced Walk-In Tubs in Millbrook and the entire state of Alabama. Our quality is unmatched, our knowledge and experience set us apart, and our customer service is the best in the industry!

Simple Walk-in Tub Pricing in Millbrook
Your quoted Millbrook Walk-In Tub price will be valid for a full 30 days from the date of consultation. No pressure! There is no obligation to make a decision on the spot. Dream Baths of Alabama, LLC Walk-In Tubs will happily deliver and install a quality walk-in tub and offer you affordable pricing to suit your unique needs. Simply call (334) 209-5979.
---
Call Charlie to Learn More!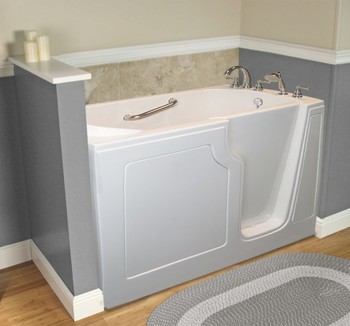 (334) 209-5979
---
In order to provide accurate pricing for a walk in tub in Millbrook, you will be asked the following during your free-in home consultation:
Will you need your new walk-in tub to be installed?
How is your electrical and plumbing configured?
What is the gallon capacity of your hot water heater?
How many doorways are there between your home entrance and the bathroom door?
Will you require a Walk-In Tub with an outward swinging door for wheelchair accessibility?
What is the configuration of your current bathroom, and what are your goals for adding a walk in?
Are there currently windows where the walk-in tub will be installed?
Do you currently have a tub/shower combo, regular tub or a shower stall?
Do you suffer from any medical conditions such as arthritis or circulation challenges?
Will you need air and/or whirlpool jets for your Walk-In Tub?
What other features do you need for your Millbrook Walk-In Tub?
What is the height weight of the person(s) who will be using the Walk-In?
Call Dream Baths of Alabama, LLC (334) 209-5979 today for a free in-home consultation and quote for a walk in bathtub in your Millbrook home. We look forward to helping you get an accurate and affordable price for your Millbrook Walk-In Tub.
---
Call Charlie to Learn More!
---
---
Call for FREE Walk In Tub Prices Quote
Dial Area Code first please.
---
WHAT CUSTOMERS ARE SAYING:
5★★★★★ - "Dream Baths does absolutely outstanding work. The workmanship, attention to detail, and experience in the bath business is obvious. We went from a useless tub to one which will be used more in one month than our old one had in 10 years. We couldn't be more satisfied with every aspect of this project from the initial consultation to the follow up after completion. Charlie, Jr is a real craftsman!! A wonderful walk-in tub with a superbly beautiful finished bath area. Thank you to each member of this team; we could not be more satisfied with the results."

Ed & Linda L, Walk In Bathtub Installation in Millbrook, AL

2018-08-06

5★★★★★ - "Dream Baths of Alabama installed a shower for me after removing a tub/shower unit. They did a wonderful job and finished when they said they would. They are the nicest people to work with. They kept the dust to a minimum and kept all their supplies contained in the bathroom and hallway. I was not disturbed at all with the demolition and the installation of the new shower. I really love the look of the shower. My friends and family who have seen it, love it like I do. I would highly recommend them to anyone. They are good people and do good work. I am very please with Dream Baths."

M. Turner, Walk in Showers in Millbrook, AL

2018-03-05

5★★★★★ - "Thank you Charlie. It was a pleasure doing business with Dream Baths of Alabama. Now to get our home back in order so we can enjoy the renovations."

Jeffrey, Bathroom Remodeling in Millbrook, AL

5★★★★★ - "Charlie & Crew - Thank you all for the Beautiful shower. We love it & show it off like we would a new grandbaby. Money well spent."

Paulette & Max B., Bathroom Remodeling in Millbrook, AL

5★★★★★ - "Dream Baths of Alabama was an enjoyable experience from the day we met with Charlie until the work was finished. Dream Baths is a professional, customer friendly business with experienced crew who obviously take pride in their work. Our new shower is beautiful and the closet created from our old shower is great."

Linda W., Bathroom Remodeling in Millbrook, AL

5★★★★★ - "Charlie Thorton of Dream Baths is an excellent respresentative of Bliss Tubs and a wonderful representative to talk with about any issues! Thank you Charlie!"

Dawn Rosenstrom, Walk In Tubs in Millbrook, AL

5★★★★★ - "Charlie and his crew did a great job our shower installation and really made the extra effort to make sure we were satisfied and comfortable with the project. All work was done in a timely manner with a minimum of inconvenience. Materials were all of superior quality and pricing was very competitive"

Ken C., Bathroom Remodeling in Montgomery, AL

2019-02-13

5★★★★★ - "From the very moment I contacted Charlie regarding my mom and dad's bathroom, he made me feel at ease. Being in Texas and my parents in Northport, AL was a little stressful trying to plan it all but he was able to answer all questions and advise promptly.!
Charlie went and visited with my parents and looked over the situation and made them feel comfortable.
Truly answer to my prayers.
They had estimated 6 days but ended up being 3 1/2 days. Total blessing! Charlie, Jr and another employee came and did a great professional job. Tore out their tub which was put in the house in the 1950s and put in a beautiful shower. They needed to have better access without risking injury and this has made their small bathroom look so nice. They also installed a new pedestal sink and new flooring which brightened the room and gave more space.

They cleaned up so nicely. My parents are thrilled and very thankful.

Thank you so much Charlie and all !!"

The Hamner's, Bathroom Remodeling in North Port, AL

2019-01-16

5★★★★★ - "I have really bad arthritis in my back and the relief the walk-in tub has given me has brought me to tears. If I could live in it I would. I just wanted to thank Charlie and the boys for the Great work actually they did and how they helped me do some extra little things.. I was very Thankful for that."

Winonna H, Walk In Bathtub Installation in Prattville, AL

2018-12-31

5★★★★★ - "The experience we had with Dream Baths was top notch. From the beginning to the end of the install. Very professional and pleasant to work with and we love our shower"

Mr Stilies in Decatur, AL

2018-12-31

5★★★★★ - "I want to thank you for the great job done on my bathroom. Please share with your website. The gentlemen who remodeled my bathroom were of the highest quality both in their actions and professionally. The work was excellent and the results are beautiful. I was on vacation when they remodeled and they are trustworthy to take care of your home while you are away. Thank you, Mr. Thornton, and tell your crew how much I appreciate all they did and Merry Christmas!"

Ruth S., Walk In Bathtub Installation in Prattville, AL

2018-12-10

5★★★★★ - "This is the second bath remodel by Dream Baths. They are professional and pay attention to detail. They do their best to keep the disruption of remodeling to a minimum and make sure everything is cleaned up upon project completion. I'm very satisfied in all respects."

Kathy H. in Prattville, AL

2018-12-03

5★★★★★ - "We are delighted with the results of our 2nd bathroom makeover!
Happy to have competent and reliable service throughout the entire process! Until next time, Blessings to you and yours!"

JayneAnn B., Bathroom Accessibility in Prattville, AL

2018-10-19

5★★★★★ - "We want to start by thanking God and everyone at Dream Baths of Alabama for giving us our Dream Bath! Because we had a bad previous remodel experience, we contacted a number of companies. From the initial call, owner Charlie Thornton was by far the most informative, thorough and responsive contractor. Mr. Thornton's quote for our bathroom remodel turned out to be the most affordable, even with a walk-n tub option, which the other companies could not even offer. Dream Baths of Alabama installers Charlie Jr. and Mike were super professional, experienced, and efficient, answering all questions and cleaning up every day before leaving. We are extremely satisfied with our new master bathroom. We would highly recommend Dream Baths of Alabama to anyone who wishes to have an affordable dream bathroom of their own!"

The Williams' Family, Bathroom Remodeling in Montgomery, AL

2018-10-12

5★★★★★ - "Dream Baths is amazing!! Mr. Charlie came out right away and gave us a great estimate, stayed in contact with me the entire time and had all this wrapped up in a 2 week time. They tore out my grandmothers cast iron tub that was so hard for her to get in and out of at the age of 86. Her new walk-in shower is amazing and so much easier for her! She loves it! The workers completed this is 2 days which is great! They worked hard and quick and did a great job! I would recommend Dream baths to everyone who wants an honest hard working company that doesn't break the bank!"

Whitney B., Walk in Showers in Brundige, AL

2018-08-24

5★★★★★ - "A very enjoyable experience. They showed up when they said they would. Estimated about 2 weeks for the work. They were through in a week and a half. Cleaned up work area daily. Very impressed with their work ethic and attitude. Would definitely recommend them to anyone. Quality work at a great price. Thank you, Charlie, Charlie Jr, and Mike."

Charles Baugh in Prattville, AL

2018-08-06

5★★★★★ - "Dream Baths of Alabama did an outstanding job on our bathroom remodel. They did the work they promised to do plus a lot more to make the bathroom look brand new. We had peeling paint on the ceiling, which they completely stripped and painted.
They also painted the walls and door and medicine cabinet to make everything look new. Everything was cleaned up well when they were finished. We would highly recommend anyone needing a bathroom remodel to call Charlie Thornton. Him and his team will take really good care of you."

Don S, Bathroom Remodeling in Prattville, AL

2018-07-16

5★★★★★ - "Dream Baths remodeled my hall bathroom. I am so thankful for the beautiful work they did. From the very first time Charlie came out to look at the potential project, he explained everything and let me know what to expect for the whole process. Throughout the time prior to the project and through the project Charlie was always reachable and answered every question. The guys who worked on the remodel did a fantastic job and were always respectful and courteous of my family and my property. When you step into the new bathroom you feel like you are somewhere else. I would certainly recommend Charlie and the guys to anyone and I will use them again to remodel my other bathroom down the road. I cannot say enough how glad that I am that I chose them for this remodel."

Angela M, Bathroom Remodeling in Prattville, AL

2018-07-13

5★★★★★ - "The Dream Bath team showed up on time and went to work on our bathroom immediately. They were knowledgeable and professional and always cleaned up after each day. They finished the project on time as anticipated.
Dream Baths of Alabama turned our 1980 master bathroom into a sleek 2018 master dream bathroom. So, if you want to remodel your bath, give Dream Baths of Alabama a call for an estimate."

Dean S, Bathroom Remodeling in Montgomery, AL

2018-06-07

5★★★★★ - "I would like to take this opportunity to express my appreciation and gratitude for a job well done and that exceeded my expectations and as you must know by now ( I have relatively high expectations). Charlie, you and your wonderful workers were always, considerate, professional, attentive to all details both big and small and gave me a beautiful bathroom that I love to use and show off. At a time when I was doing many renovations at the same time, it was Dream Baths of Alabama that I could count on to show up, clean up and provide expert craftsmanship at a competitive and fair price. I know this because I did my 'homework' and had received more than one other quote before going with Dreams Baths of Alabama and I am so very glad I did!"

Tommie Turner, Bathroom Remodeling in Montgomery, AL

2018-05-17

5★★★★★ - "The Guys with Dream Baths done a great job. They converted a tub to a shower for me and I am so happy that now I can take a bath without worrying about falling or slipping. The guys that did the work were really nice and Charlie the owner has checked back with me just to see how I am doing I like that.
New Review"

Edna H., Bathroom Accessibility in Wetumpka, AL

2018-05-15

5★★★★★ - "We are very happy with how it looks and we are content with our water pressure. Thank you and your crew for all the great work!! Sorry for the headaches, I was just trying to get the best possible results from this awesome project. Thank you again."

Karl, Bathroom Accessibility in Montgomery, AL

2018-05-07

5★★★★★ - "We were just talking about how kind and fair of a person you are and how we really appreciate the wonderful work, advise and information you have given us. It must run in the family because both Charlie Jr. and Steve were so pleasant and kind to work with. Steve did an absolutely wonderful job today. Such a really great guy! Alabama Dream Bath is at least a 6 out of 5-star rating! David is coming next Thursday to start on the plumbing for the utility sink in the garage area. Charlie it has been an absolute pleasure working with a person of your caliber, integrity, and kindness.
AN ABSOLUTELY SATISFIED CUSTOMER!!!"

Varnell Person- Turner, Bathroom Remodeling in Deatsville, AL

2018-05-07

5★★★★★ - "The guys did a great job and it looks fantastic. I can't wait to try it out, and it's not even my bathroom! Thanks"

Karl Franklin, Bathroom Remodeling in Montgomery, AL

2018-04-30

5★★★★★

Paulette Bowdoin, Bathroom Remodeling in Wetumpka, AL

2018-04-05

5★★★★★ - "Charlie, Thank-you for your leadership today. It was NOT your fault that the faucet problem occurred; however, you took ownership of the problem and took appropriate action. Most would have asked the customer to play the role of "bad-guy" to put the pressure on. I cannot thank-you enough for the way you took charge of the situation and found a way to "get-r-done." We love our new bathroom and every time I walk in there I will think of you, your son Mike, and Steve. I'm glad the light was not finished--that way we can see you again. Your a great business man and more importantly a great and kind man. Thank-you again today for what you did to fix a tough situation! Nita is still at 9:30 PM setting up her new bathroom--she's enjoying putting things away and decorating. It gives me great joy to see her pleased!
May God bless you in a mighty way!"

Chris Walker, Bathroom Remodeling in Prattville, AL

2018-03-26

5★★★★★ - "Charlie, I want to thank you so much for coming out to my home and explaining to me about the walk in tubs that you provide folks. I did not know which way to go and I felt like that I couldn't afford one. I checked with other companies and they were simply outrageous with their prices. I thought all tubs were priced that high but when you told me your price I knew there was hope. I really enjoy the tub, the warm water feels so good and it helps me relax because of my condition at 80. Also, the boys Charlie Jr and Mike were so nice and a pleasure to have in my home and done a great job installing the tub in. I will be recommending your services to my friends in the future.
God Bless"

Dane Screws, Walk In Bathtub Installation in Montgomery, AL

2018-03-19

5★★★★★

Chris W., Bathroom Remodeling in Prattville, AL

2018-03-16

5★★★★★ - "On July 1, 2011, Dream Bath installed a new shower which included the walls, floor, soap dish, and grab bars. I was very pleased with the work performed by Charlie Thornton and his people.

In November 2017, I discovered water under the floor of the shower. I called Mr. Thornton with Dream Bath. He came out promptly to check on the problem and fixed the shower floor to my satisfaction. His son, also named Charlie, was eager to do his best in completing the required work.

I am very pleased with the work done by Dream Bath."

F. Owen, Bathroom Remodeling

2018-02-21

5★★★★★ - "We are pleased with our bathroom renovation by Dream Baths of Alabama. The walk-in shower is an amazing change for us. The work quality exceeded our expectations. I have more than 40 years of experience work with contractors and Dream Baths of Alabama is among the top of the list. Dream Baths of Alabama is first concerned with their client's needs based on face-to-face discussions with Charlie Thornton who can take what you say you want and comes back with a plan you need. Very dependable and courteous work teams."

Jeff, Walk in Showers in Montgomery, AL

2018-02-15

5★★★★★ - "We had Dream Baths of Alabama convert our old one-piece shower/tub to a nice New larger shower only. We could not be happier. They used better quality materials than competitors. They did fast but quality work. I highly recommend Charlie Thornton and his company."

Tom l, Walk in Showers

2018-02-13

5★★★★★ - "Charlie and Mike make a highly efficient, professional, considerate, dependable, and pleasant crew."

Shirley T, Bathroom Remodeling in Montgomery, AL

2018-02-05

5★★★★★ - "Doug and I are very pleased with the install in our two bathrooms. even though our bathrooms are small the enclosures make the rooms look larger. the acrylic tub to shower conversion and the tub/acrylic enclosure look even better than we imagined. Charlie and Mike were great! Dream Baths of Alabama is the complete package for bathroom remodeling."

Geri & Doug, Bathroom Remodeling in Decatur, AL

2018-01-11

5★★★★★ - "Dream Baths of Alabama, (Charlie Thornton Sr.) did a fantastic job on our shower conversion, Thanks guys!!!!"

Freddy Clark in Wetumpka, AL

2017-12-11

5★★★★★ - "Charlie, thank you so much for the time your guys spent getting our bathroom fixed for my mother to be able to use this week. Your suggestion to convert from a tub shower set up to a low profile shower so that my mom could get in and out easy and I would not risk her getting hurt or myself was the best idea by far. Charlie Jr. did a great job and my family and I are excited to know that mom can take a bath with ease now. It looks BEAUTIFUL and THANK YOU and your CREW SO MUCH. L Paddmore"

Paddmore in Tuskegee, AL

5★★★★★ - "Charlie and his guys from Dream Baths came in and really delivered when it came to remodeling our bathroom, it looks beautiful . The work was done in a timely manner and very professionally done . Thanks so much, and we are glad that we contacted Charlie at Dream Baths"

Jeff in Prattville, AL

5★★★★★ - "We had a great experience working with Dream Baths . Charlie, the owner, was very pleasant and not pushy at all; matter of fact ,we really had a good time when he came to our home. We talked about several things other than the bathroom we needed looking at. The young men, Josh and Charlie Jr., were just super to work with and done a very professional job. It was a very good experience and the cost was nothing compared to others in our area. We would recommend them to anyone . Thanks Guys"

Wiggins in Montgomery, AL

5★★★★★ - "Jennifer is thrilled with Katie's new shower. Katie is at Camp Asca, a camp for special needs children and adults, so she hasn't seen it yet. Camp Asca is operated by Easter Seals. Such a treat for HC individuals located in Jackson Gap, Ala. Thank you guys for your great work. You have been so easy to work with."

Jennifer in Jacksons Gap, AL

5★★★★★ - "Charlie, thank you for the work your boys done in my bathroom. I know my shower now I feel safe taking a bath. I am so glad I met you."

Edna Harwell, Walk In Tubs in Wetumpka, AL

5★★★★★ - "Charlie,
Just wanted to thank you and your son for coming up today and repairing our shower stall for my Mom. I know it was a long way to come. It shows me you stand behind what you sell and that you are a man of integrity. It seems to me that those qualities, in this day and age, are becoming rarer and rarer. Again, thank you.
Gregory Humphrey"

Gregory H in Tuscaloosa, AL

5★★★★★ - "Mr. Charlie Thornton of Dream Baths, son Charlie, Jr. and Josh completed demolition and remodel of my granddaughter's handicapped shower in two weeks. Very nice to work with. Charlie, Jr. and Josh did a great job. Very pleased with the outcome. I recommend Dream Bath highly."

Margie M., Walk in Showers

5★★★★★ - "Jennifer is thrilled with Katie's new shower. Katie is at Camp Asca, a camp for special needs children and adults, so she hasn't seen it yet. Camp Asca is operated by Easter Seals. Such a treat for HC individuals located in Jackson Gap, Ala. Thank you for your guys' great work. You have been so easy to work with."

Margie Merritt, Bathroom Accessibility in Jacksons Gap, AL

5★★★★★ - "Dear Charlie,
We were very pleased with the job. The guys were both great, very respectful. They work really hard. I appreciate the fact that they did not leave a mess outside in front of the house. Every night their things were locked in the trailer, all garbage bagged and placed in the truck. The finished bathroom was vacuumed so most of the dust was gone.
We haven't used the shower yet, but we will let you know if we encounter any problem...I'm sure we won't! I do apologize for all the trouble getting the border here and then we chose not to use it!
You have two great guys working for you. We will certainly give you a good recommendation.
Thank you Charlie,
Candy Rosenwald"

Candy Rosenwald, Bathroom Remodeling

5★★★★★ - "The guys at Dream Baths of Alabama are very professional. They were extremely accommodating to our daily routines while they worked around us. The guys always cleaned up after each days work. Extremely trustworthy while we were gone! The bathroom turned out better than we ever expected! Enjoyed getting to know Josh and his team over the week they spent at our house. I would recommend them to anyone looking for an A+ bathroom remodel. 5/5 stars!"

Joe and Allison L., Bathroom Remodeling in Tuscaloosa, AL

5★★★★★ - "We are very pleased with the results of the renovation and look forward to enjoying it in the future. I want to compliment you on your construction crew for their skill and desire to satisfy their customer. I was especially impressed with Josh Smyth. He is very skilled and very easy to work with. You are lucky to have an associate like him."

Bill & Carolyn Ray, Bathroom Remodeling

5★★★★★ - "The employees of Dream Bath and its owner certainly went above and beyond the normal. their work is superb and they do not leave a mess when finished. I would recommend Dream Baths for any bathroom work you need done.."

Jerry W., Bathroom Remodeling in Montgomery, AL

5★★★★★ - "Hi Charlie, I just wanted you to know how much I am enjoying my new spa tub. It's absolutely wonderful! Your men and you did a great job and I appreciate the clean up as well. I have a disability, but anyone would love this after a long day!"

Jackie J., Walk In Tubs in Mobile, AL

5★★★★★ - "My experience with Dream Baths was better than I anticipated. Charlie and his crew was outstanding....We had both bathrooms completely remodeled and we're completely satisfied from start to finish and will definitely recommend Dream Baths of Alabama to all our family,friends and neighbors."

Bill S., Bathroom Remodeling in Prattville, AL

5★★★★★ - "Excellent work on my daughter's bathroom. Professional ability to assess bathroom problems: behind the wall leak, floor not level, lack of insulation. All of the mention challenges were repaired at no additional cost. Mr. Josh was very professional and informative about his work and when he was leaving and returning. A difficult project with a bad floor that was completed in a timely manner."

Perry McFadden, Bathroom Accessibility

5★★★★★ - "I love my step-in-bath. It is my personal hot tub. Charlie provided an excellent product, with excellent customer service. Above all, he has provided follow up with my questions and cares about his customers as much as his product and service. I highly recommend Dream Baths of Alabama."

Dawn Rosenstorm, Walk In Tubs in Auburn, AL

5★★★★★ - "Came to our home and installed a tub to shower conversions and did a beautiful job, very professional. They cleaned up and it was ready to use the very next day. I would recommend them any day and we saved 1200.00 by not going with New Bath. Very precise, detailed, and meticulous. One of the most honest and trustworthy guys in the business. I would recommend them to anyone. Very satisfied."

Homeowner, Walk in Showers in Prattville, AL

5★★★★★ - "Dream Baths of AL did a fantastic job on my Master Bathroom. I am extremely pleased with their work. Charlie and Josh are very trust worthy and easy to work with. The entire process didn't go as fast as I would have liked. I had set up my consultation and order in July (which is their busy time), so it took a long time for the materials to arrive (but I don't blame Dream Baths of AL for that). The entire project didn't get completed until December however, that is ONLY "complaint" I have. But with that being said, I highly recommend
them. Their work is top notch and they were a joy to work with. Charlie was able to incorporate everything I wanted at a very fair price. I'd definitely use them again. My new Master Bathroom is EXACTLY how I wanted it!"

Cassandra B., Bathroom Remodeling in Montgomery, AL

5★★★★★ - "Charlie and crew were the best. I would happily recommend them to anyone needing a new bath. They are honest, reliable, and very friendly."

Paulette B. 2016-12-02

2016-12-02
5★★★★★ - "Professional service from the owner down to each employee was superb. I would recommend and will also use again in the future. Loving my master bath."
Sandra H. 2016-12-02
2016-12-02
5★★★★★ - "It went well, the team of Josh and Charlie Jr. are detail oriented craftsmen; they know what they are doing and it shows in their work. They answered all of our questions as the job went along and were on time everyday and left in a timely manner every evening. I have to be honest. I was not prepared for the dust. (they were a careful as could be, but it made dust) If I had to do it over again, I would have covered everything with old sheets , etc. but it was still worth it. I would use then again if they did other types of projects. Highly satisfied with everything. Thanks to Josh and Charlie Jr. for a fantastic job."
Bud and Marion in Montgomery, AL
2015-11-09
5★★★★★ - "Charlie quickly contacted us after our online purchase and set up a date to meet at our house. He was right on time and had plenty of literature and material samples available for ideas and discussion. We went to our Master Bathroom and discussed ways to update it since no significant changes had been made since the house was built in 1990. The consultation helped us start off this project right, because, while we knew the bathroom needed renovation, we did not have the experience to see what types of changes or updates were doable and/or cost-effective. Overall, the consultation was great value for the money and Charlie did a thorough job, showing alternatives to improve all areas of the bathroom. It broadened our understanding of the options available for this renovation, preparing us to properly evaluate the multiple proposals/quotes we requested for the project."
Gregory Vitalis in Meadowbrook, AL
2015-11-09
5★★★★★ - "Dream Bath made my bathroom look like a Dream Bath! I love it! They removed the old tub, toilet, vanity, and damaged areas. They replaced the tub with a beautiful tub (my favorite part), toilet, vanity, and re-painted walls. It took a week to finish. The workers were professional and made me feel comfortable. They assisted me and kept me updated every step of the way. I can't wait to have my second bathroom redone. Thanks guys and May God Bless You!"
Thaddeus Porter in Montgomery, AL
2015-11-09
5★★★★★ - "Dream Baths replaced the bathtub/shower in our master bedroom. Half of the cost down and the remainder when the job was finished. While it took a while for Dream Baths to get the materials and work us into their schedule, we are very satisfied with the results. Very professional installation and clean up, all in one day. In fact, we are so pleased with the results that we are having them replace the guest bath too."
Robert Paschen, Walk in Tub Installation in Montgomery, AL
2015-01-30
5★★★★★ - "My husband and I are very pleased with the final result of our master bathroom renovation. I think it will be a key selling point when we do decide to sell our home. The journey to get there was a bit bumpy, with several delays on getting the project started. Granted these delays were out of DBoA's control (increased national demand from one of their suppliers so there was a delay in getting parts), we just wish they were more up front on the reason for the delays in the beginning. Once DBoA was able to get their parts from their vendor things went very fast and very well. The construction employees of Dream Baths of Alabama are very professional and courteous. My husband and I cannot speak highly enough about those two men (both personally and professionally). DBoA showed great workmanship at an affordable price (several thousand dollars cheaper than another general contractor that we looked into, and better quality based on the jobs we did have them do). They took their time to clean up the place after the job was done. The employees were very accommodating with us making a couple of last minute changes and getting them implemented. Even with the bumps in the road, because of the great quality of the final result we would recommend Dream Baths of Alabama for bathroom renovations. NOTE ON COST: The cost we listed also includes (as the contractor we turned down put it) the pretties, which included the vanity, faucets, light fixtures, flooring, and paint. What DBoA included that the other contractor did not was the shower raw materials, and toilet."
Jonathan Tait, Bathroom Remodeling in Madison, AL
2015-01-30
5★★★★★ - "The Gentlemen of Dream baths of Alabama did a great job. The first day they methodically demolished and removed the old bathroom completely. It will create a lot of dust as with any remodel, so cover anything in that area you want to stay clean and close as many doors as possible. The men replaced all of the plumbing supply lines and drain lines. They installed a new acrylic surround with an overhead light, showerhead, spigot, and controls, sliding tub doors, and a new high-rise commode. My husband and I had previously purchased a vanity with faucet, mirror, and light, towel bars, and toilet paper holder.The men installed all of these items for us. They also installed a new tile floor and baseboard. The whole bathroom received a fresh coat of paint, that we supplied, on top of everything else they did. My husband and I are very pleased with the quality and particularly they attention to detail that our crew from Dream Baths provided. Thank you Charlie, Josh, and Steve for your professionalism. We love our new Bathroom it is worth every dime we spent."
Mark Owens in Semmes, AL
2015-01-13
5★★★★★ - "They took extra care to lay drop cloths all through the house and cleaned up the dust. I'm very happy."
Elizabeth W. Lucas in Huntsville, AL
2015-01-13
5★★★★★ - "It was great! We had used them in January to do the downstairs bathroom, and were so pleased with every aspect of their work, professionalism, and quality of service, we wouldn't have dreamed (ha ha! get it!) of using anyone else!
We did this bathroom in different colors than the first, and added a few other features (like wainscoting) and it turned out BEAUTIFUL! I honestly can't decide which bathroom I like better! They both have a different feel to them, but I am glad this is the one I get to use every day!! The old bathroom had awful 2 square PINK tiles all over the tub walls, floor, and walls! It was UGLY! We went with the grey marble look for the tub enclosure, and I love how it is all one piece, including the ceiling, with a nice sized cut out shelf for my shampoo. They replaced my tub (which was old, chipped, and stained), and gave me the awesome shower head I had fallen in love with from the other bathroom!! (the old shower head was all one piece with the pipe, and couldn't be easily replaced). In this bathroom, we wanted wainscoting which was perfect since there was all that ugly pink tile going halfway up the walls! They were able to just demo what was necessary, and put the wainscoting over it, which saved us big bucks and reinforced the walls! The toilet we got is so nice! I like to recycle, reuse and not be wasteful, and the toilet they gave us has two buttons on top to flush! One for light flushing, and the other for heavy flushing!! It is cool! Everyone comments on it when we show off the bathroom! We also picked out some beautiful ceramic tile for the floors, that look like antique wood planks, and found a nice vanity, light and mirror that they installed for us. (My husband custom made the counter top you see in the photos) They painted the walls and celling, and even added an outlet for us! Now not only is my bathroom absolutely beautiful, but much more practical!!"
Joseph Evans in Birmingham, AL
2015-01-13
5★★★★★ - "We cannot recommend Dream Baths and Charlie Thornton highly enough! We had a bathroom that had been all but non-functional for seven years because of a water issue. We needed a complete remodel. Before we talked to Charlie, the estimates we received from three other contractors were astronomical. We were so discouraged. Charlie's team did fantastic work within a budget that we could afford. We now have a beautiful bathroom. It is everything we wanted. The team, primarily Charlie, Jr. and Josh, was punctual and so polite. They worked very hard to finish in a timely manner and always cleaned up after themselves. The quality of the work is excellent. We would definitely use Dream Baths again. If you are losing hope that you can afford to redo your bathroom, call Charlie!"
Carla Craft in Vestavia Hills, AL
2015-01-13
5★★★★★ - "I am very happy with the service provided by Dream Baths. Mr. Thornton met me at my house at the agreed upon time and went over all the details about the service and helped me to pick out exactly what I wanted. The timing was very important. The work had to be done by Christmas. Mr. Thornton guaranteed it would be and he kept his promise. He called several times to let me know just exactly where they were in their schedule and when they would be able to come to my house. I was surprised by the cost, but I guess any renovation is not cheap and you do get want you pay for. The work is exceptional. It looked as if the bathroom was originally constructed that way. You cannot tell that any construction has been done. Everything was done to my specifications. The workers were not told that I wanted the plumbing reversed, but after verifying this with Mr. Thornton, they started over and did it exactly the way I wanted it done.The two men who worked on the bathroom were very professional. I would highly recommend Dream Baths."
Cynthia Byrd in Hope Hull, AL
2015-01-13
5★★★★★ - "While I am in the process of remodeling the entire house this easily went from an eyesore into the best looking room in the house. The Dream Baths crew was very well organized and completed the job very quickly. I waited for the newness to wear off before I wrote the review and can still say i am highly please with the job and services rendered. I will add my voice to the others that highly recommend Charlie and the rest of the Dream Baths crew if you need bathroom remodeling work performed."
Robert King in Madison, AL
2015-01-13
"Started out as a simple bathroom renovation on a 45 year old bathroom. After discussion with Charlie the project morphed into a complete renovation of 2 bathrooms. We got Dream Baths business card from a friend who got it from the owners wife when they had a casual chat in the meat dept at Walt-Mart. Dream Baths was our first interview for the job. We originally planned to contact several other firms but after showing Mr Thornton what we wanted done and listening to his ideas and proposal, we knew he was the man we needed.
Mr Thornton juggled his schedule around our travel and entertainment plans so it was a month before any work actually started. he kept us informed of all the products and when they would arrive and always was available to answer any questions we had.The work crew was wonderful-polite, caring, hard-working and clean! If any question came up they would always address them and ask us how we would like them to do it. This was not an easy job to do. Our house is old but each time a question arose the guys knew what to do and it was fixed.
The crew laid down drop clothes to cover our flooring each morning and took it up each night before they left. They swept up each day and dusted off the furniture. When the project was finished we had little to no cleaning to do and that was great. When it came to settling up for the work. I had projected at least 500 to 1,000 for extra work done. NOPE- Mr Thornton said that there was no charge for the extras. We only paid what was originally agreed upon in the beginning. I have never had dealings with a company that went this well ever before. these guys deliver the goods and are just good people . I would recommend them to anybody and our 2 bathrooms are looking fantastic thanks to them."
Joseph Talton in Prattville, AL
5★★★★★ - "We moved into an older home recently and needed some advice on what would be best for the bathrooms. I called Charlie at Dream Baths and he graciously explained his ideas to me. He spent an hour or more just listening and giving me ideas and tips on how to do the work and save money. He was very kind man with integrity. A valued trade we don't always encounter. He is easy to talk to and I will keep his number for future reference and work."
Sandra Montgomery in Huntsville, AL
2014-07-30
5★★★★★ - "Every step of the process was great! They were very open to our opinions, and helping us get what we wanted, balanced with providing us all the information and options needed to make our choices. Charlie and Josh were very nice and professional, and went above and beyond to make the bathroom look great! My husband liked them so much we bought their lunch a few times. I like how we were able to pick our own vanity, and lighting fixtures that they installed to keep the cost down and get exactly what we wanted. So many things look different in person, I like to see the real thing. Speaking of, during the early stages when we picked out the materials for the shower walls, they had lots of samples to choose from, and we love the style we chose. The work took a few days longer than expected, but while watching the progress, we knew it was because they were doing everything right to fix the bathroom the way it needed to be done, so that wasn't an issue at all. It took about 7 business days to complete. They worked hard, kept the areas clean, and were very respectful of us and our home. I was about 12 months at the time (jk) and they even volunteered to work that Saturday to finish the work before the baby came, since that Monday had been a holiday (good thing too because the baby came that weekend). This reno was on our downstairs guest bathroom, and I loved it so much, I haven't showered upstairs since I came home from the hospital. It looks great! They used high quality materials, and were a pleasure to work with! Because of how well this bathroom turned out, we are now going to redo the upstairs bath. I can't wait! (and who says that about home renovations) I am definitely doing work with them again, and would recommend them, as I have, to anyone who is in need of a new bathroom."
Bathroom Remodeling in Birmingham, AL
2014-06-12
5★★★★★ - "Crew was polite, professional, efficient."
K. Hendrix, Bathroom Shower Remodeling in Prattville, AL
2014-06-12
5★★★★★ - "Excellent. They did a beautiful job. The workers were professional and clean."
Bathroom Remodeling in Deatsville, AL
2014-06-12
5★★★★★ - "Charlie thank you for the beautiful shower your guy's installed for me. Just like the walk in last year for mom you guy's are good at what you do and thank you for that. I know people can trust what you tell them and when you say it is going to look a certain way it does. Thanks' again Brother."
D Farmer, Highland Home, AL
2013-09-24
5★★★★★ - "Charlie, S Jones here I wanted you to know that my girl friends really love my bath room since you guy's got your hand's on it. What I like are the color's and how the Acrylic look's just like Alabaster Marble one of my girl friends ask me how much it cost and I told her she really did not want to know but you know me I told her and she could not believe it and she said she was going to be giving you a call very soon. I love it Charlie."
S Jones in Bessemer, Alabama
2013-09-24
5★★★★★ - "Charlie, I love my new walk in Tub! I use it EVERY night before I go to bed it makes my old back and leg's feel so much better and I can sleep much better at night. It relieves cramps in my calf muscle's which you know I told you I have suffered with for a long time. This tub is a GOD send for me if you need me to be a reference for you and the boy's just call me anytime. I really wished I had done this year's ago. God Bless you guy's."
M A Harrison in Pine Apple, Alabama
2013-09-24
5★★★★★ - "Hey Charlie, Man we want to thank you guy's for this lovely Bathroom Josh and Charlie Jr. installed for us. Hey I thank we done a real good job also picking out color's my girl friend love's it and man that take's a lot off my mind. I would recommend you guy's to anyone in my family or friend's."
P Gray in Prattville, AL
2013-09-24
5★★★★★ - "Dream Dream Bath's, Thank you for the help with our bathroom problem's. We never thought that we could do what you guy's did for us. It change everything in there. It is truly a totally different Bath Room now and me and my mother are tickled pink over it. "
D Austin in Safford, Alabama
2013-09-24
5★★★★★ - "Charlie, Thank you for everything you and your guy's done for me in my bath room. I now feel like I am safer when I take a shower I am not afraid to use it by myself and I really enjoyed your guy's while they were here working."
Ms. V Peterson in Montgomery, AL
2013-09-24
5★★★★★ - "Thank you for the real interest you and your crew showed to me and my wife as far as helping us with our bath need's . It's going to make it so much easier for my wife to take a shower now and it look's beautiful."
Mr. A Hafner in Huntsville, Alabama
2013-09-24
5★★★★★ - "Hi Steven. I have wanted to email for some time now to let you know that Charlie is an extremely helpful and pleasant individual and went more than the extra mile to help us Him and his crew are a true asset, advocate and representative for Ella's Tubs. His crew was efficient and they all worked straight through the day until the job was completed. They cleaned up everything and toted away the old insert for disposal. If I had to rate them (which I am doing now) they would be 5 out of 5 star's and 2 thumb's up."
C Brown in Livingston, Alabama
2013-09-24
5★★★★★ - "Charlie your crew is the best. The shower and walk-in tub they installed looks beautiful I never thought the colors really would look so good. Thank you."
MS. Charlotte in Leeds, AL
2013-09-23
5★★★★★ - "Hi Charlie, I visited with Ms. Austin this morning and saw her tub WOW it looked great. We had a delightful visit and became instant friends- thanks to dream baths! So I'm ready to order my tub I cannot wait to be able to use it."
Ms. Peggy in Montgomery, AL
2013-09-23