Senior Care Bathing Solutions
Empowering People of all Ages & Abilities
A new collection of classically styled multi-piece showers & shower pans, offers a realistic approach towards renovation, with a focus on accessibility. Dream Bath Systems is designed for those who value independence in their lives and safety. With Dream Bath Systems, you can have the best of both worlds - Beautifully designed bath that makes living life easier and a lot safer. These shower all come with a 30 Year warranty so that gives you peace of mind as a customer.
---
Call for a FREE Quote
---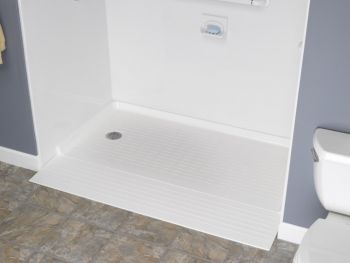 Dream Baths Systems are designed for those who value independence, freedom and safety in their lives our seniors. But, we also know that you are an individual. With those facts in mind we offer you a variety of barrier-free showers and the ability to customize your shower to meet your needs. Dream Baths Systems provides true freedom in bathing.



We offer a wide variety of optional accessories which allow you to customize your shower or bath to best meet your needs. With plywood reinforced walls, grab bars and seats can be placed nearly anywhere on your unit, before or after installation. In addition to our twelve shower units, we offer thirteen shower pans, a cantilevered bathtub, and  walk-in bathtubs. So not only do you have a choice in accessories, but a choice in features. What else makes Dream  Baths Systems the right choice for your bathroom? Classic styling, uncompromising quality, and unprecedented customer support.
Please Give us a call today and let us see what we can do to keep your Mom, Dad or loved one Safe and Secure while they are Bathing .
-Charlie Thornton, Owner of Dream Baths of Alabama LLC
---
Call for a free quote!
---
Below are some of our samples: